Discover the Trapani territory through the touristic itineraries suggested by our Hotel, a perfect point of departure to explore the province of Trapani. Below any touristic itineraries are shown; by them, you can discover and appreciate the natural, archaeological and wine and food marvels.
Archaeological itineraries
Naturalistic itineraries
Gastronomic Itineraries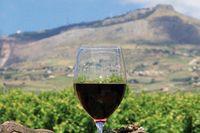 For travelers Sicily is a land of emotions, a place where history merges with the myth, nature is extraordinarily generous and culture is the result of  fusion of great civilizations. Since 2005 Sicily boasts a new heritage, "La Strada del Vino e dei Sapori Erice Doc", one path between Erice, Segesta and Motya littered with historical evidences unique in the world, naturalistic landscapes of rare beauty, and food riches to discover. Today  the road gathers private places of great charm: excellent farms, luxury resorts, restaurants, wineries, local handcrafts manufacturers.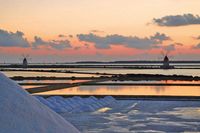 One of the most romantic sunsets are those you can see from the  road of salt. The coast from Trapani to Marsala in some places takes fantastic outlines that cause strong emotions. Tourist itineraries to visit the salt-pans run along the banks of the shimmering ponds for salt crystallization, reach the islets with the windmills, memory of the time when they were the primary tools to pump water and grind salt. Walking around you can see the flight of many migratory birds that find a home in this area and in particular in the habitat of the reserve of Stagnone of Marsala where, as in a wonderful stage, you can see mysterious island of Motya (cradle of the Phoenician-Punic civilization of Sicily), the windmills and the saltpans with mounds of salt which is the protagonist of the coastal territory of Trapani